We are old-time friends who grew up together and have played D&D and various other RPGs together for the past 30 or so years. We have always wanted to create shiny RPG products, so we launched Elderbrain.com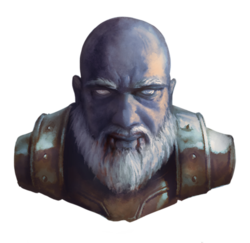 Gabor 
(Geek 6/Game Dev 4/Manager 6) has molten dice flowing in his veins. His most frequently used feats are: Get Things Done, Motivate Others, Create From Nothing. He has been GMing and playing RPGs for over 30 years and creates computer games for a living. 
Tom 
(Geek 6/Historian 4/Manager 6) devours fantasy, history, and sci-fi books for breakfast, or really anytime he has a few minutes to read. His most frequently used feats are: Midas Touch, Satisfy Partners, Locate Anyone/Anything. 
David 
(Geek 6/Corp. Executive 13) fiddles with a d20 and dreams of dragons and dungeons after his top-level executive meetings in his office. He balances random encounters versus party levels in his head as he pushes the stroller in the park.